Uncategorized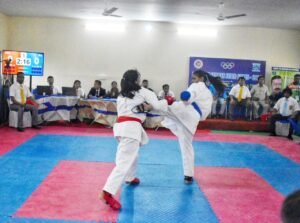 Happy news for all the lakhs and lakhs of karatekas in West Bengal that KAB under the Presidentship of the martial art exponent,Premjit Sen, had successfully conducted the official and authentic "8th Netaji Subhas State Games 2022 at the Maulana Abul Kalam Azad University of Technology (MAKAUT), Haringhata (Kalyani) on 14.05.2022.
This historic event not only brought smile to all the aspiring karatekas in Bengal, but also showed them the only authentic way to play a State Olympic Games, which is possible only and only through KAB under the able guidance and leadership of Mr. Sen.
It was for the first time in the history of Indian Karate that any state Association used the technology to its utmost use, by introducing the real-time digital scoring system for Kata events as used by WKF. Not only that, KAB also used the most fascinating VIDEO REVIEW SYSTEM to keep a perfect transparency and give genuine benefits to the players during their Kumite matches. Every thing was made possible by Premjit Sen as he always dreamed to modernize the tournament pattern in his state, West Bengal and finally after years of wait and patience, he could successfully use all his experience and knowledge that he gained by attending several International events of World Karate Federation and Asian Karate Federation as Referee and Judge over the period of time, in this tournament, and awed every spectator as the event seemed nothing less than an international event.
The whole event was telecasted LIVE in the official Facebook page of KAB.
The event was graced by the following dignitaries, who not only inaugrated the event, but also visited the Tournament area time and again just to watch the discipline and modernized technologies used for the functioning of the game:-
– Sri Swapan Banerjee (President of Bengal Olympic Association)
– Mr.Jahar Jahar Das (General Sectetary of Bengal Olympic Association)
– Mr.Saikat Mitra (Vice chancellor of MAKAUT)
– Mr.Abhijeet Banerjee (Superintendent of Police)
– Mr. Debasish Basu (Chairman of Haringhata Municipality,
– Additional Superintendent of Police
The day was only and only possible due to the determination and hardwork shown by Premjit Sen (President of KAB) and, always to mention, his best associate, Joydeb Mondal (General Secretary of KAB). They always stood beside all the players for only their benefits and development. It is their vision that is making players compete in an official State Olympic Games under the auspices of Government of West Bengal.
A team of Technical Officers and Association Officers were well tranined by Mr. Sen through Seminars before the event where he imparted theoretical and practical training to them to control and conduct the event flawlessly. Hanshi being the Chairman of the Referee Council of India of Karate India Organization and the only World Karate Federation Referee from Bengal, used his expertise to plan the event well, kept the arena well equipped with the field requirements, so much that no injuries or complains were recorded in this event.
When asked to Premjit Sen, he smiled and replied, "What Bengal thinks today India thinks tomorrow. Karate Association of Bengal has constantly been proving its superiority through its excellency in promoting Karate in our state and not a single stone is left unturned by us when the benefits and growth of karate or karate players is in question. We proudly claim that our style and passion is unmatched all across the country and we shall continue to take new challenges to make things develop even more so that karate reaches new heights each day, not only in West Bengal but in our country."